Celebrating a spring and summer of successful fundraising with the BC LETR
In her 19 years of involvement with the Law Enforcement Torch Run for Special Olympics BC, Delta Police Department Inspector Debra McLeod has found it very rewarding to be part of LETR events and inspiring to spend time with SOBC athletes.
"It is about more than running; people's lives are affected and we are making a difference for so many people, for so many athletes locally, nationally, and internationally," McLeod said.
This spring and summer, law enforcement champions teamed up with Special Olympics athletes to raise funds and awareness for SOBC through fun and inclusive LETR events across the province.
Members of the Central Saanich Police Service, Oak Bay Police Department, Saanich Police Department, and Victoria Police Department joined forces with SOBC – Victoria athletes for a great weekend of fundraising in Victoria from April 28 to 30. From Friday evening until Sunday evening, law enforcement champions camped out on scaffolding at Uptown shopping centre for the Free the Fuzz fundraiser for SOBC. Sunday also saw Special Olympics supporters hit the Galloping Goose Trail for the Victoria Torch Run.
"It's a great cause. We need to bring awareness to the athletes and the event," Victoria Police Department Constable Franco Bruschetta said to CHEK News. "It's something that's dear to my heart; the athletes need the awareness and need the funds to help them compete in the events."
June began with more than 100 participants coming out for the Prince George Torch Run on June 6. This fun 3.5-kilometre run/walk featured SOBC – Prince George athletes and Prince George RCMP, Prince George Fire Rescue, and B.C. Sheriff Services members. LETR champions from these organizations also ran a successful car wash fundraiser for SOBC on May 20.
Pictured above right: Saanich Police Department Constable Lisa Bruschetta, Central Saanich Police Service Corporal Pat Bryant, and Oak Bay Police Department Cst. Sheri Lucas raised funds and awareness from behind bars at Free the Fuzz in Victoria.
"The Prince George Detachment was once again honoured to host the Law Enforcement Torch Run in our community," Prince George RCMP Superintendent Warren Brown told the Prince George Citizen prior to the run/walk. "The public support has been overwhelming and the appreciation of the athletes makes all the efforts worthwhile."
Law enforcement champions and SOBC athletes ran shoulder to shoulder through 18 communities during the Lower Mainland Torch Run, which took place from June 6 to 9. Participating agencies included the Abbotsford, Delta, New Westminster, Port Moody, Vancouver, and West Vancouver police departments, RCMP detachments throughout the Lower Mainland, Canada Border Services Agency, the Justice Institute of British Columbia, and Metro Vancouver Transit Police.
Insp. McLeod helped coordinate the four-day event and was joined by some members of the Delta Police Department who were new to the LETR. She says they had a great experience.
"They hadn't had an idea until they came in the for the final leg, where we ended here in Delta, how much of an impression we made with the athletes – who were lined up waiting to join in on the run. This has really opened up a new era for them!" Insp. McLeod said.
Lower Mainland law enforcement members also worked to raise funds and awareness for SOBC at the Mission RCMP Cycle for a Cause fundraiser on March 26, the Metro Vancouver Transit Police Charity Golf Tournament on May 18, and the Abbotsford Police Department Challenge Run on June 10.
Comox Valley RCMP members and SOBC – Comox Valley athletes took a trip down the Rotary Trail in the Comox Torch Run on June 25. SOBC – Comox Valley Local Coordinator Randy James told My Comox Valley Now that LETR support plays an important role in supporting his Local.
"We offer 11 different programs, so there's a lot of different things going on in the community on a year-round basis and that all costs money, so these funds will definitely be a positive in terms of supporting our athletes who all live on fixed budgets," James said.
Cranbrook RCMP champions and SOBC – Kimberley/Cranbrook athletes got together for the Cranbrook Torch Run on June 29. The three-kilometre run was followed by a barbecue and softball game with Cranbrook RCMP members.
In July, law enforcement members helped kick off the 2017 SOBC Summer Games in Kamloops with the BC LETR Final Leg. After a five-kilometre run through Kamloops, runners representing BC Corrections, Kamloops RCMP, Vancouver Police Department, and Yukon RCMP received an enthusiastic welcome from a cheering crowd as they delivered the Flame of Hope to the Opening Ceremony.
Pictured above left: Kamloops RCMP Cst. Sofie Winkels and SOBC – Kamloops swimmer Shinji Matthews carry the Flame of Hope at the Opening Ceremony of the 2017 SOBC Summer Games. Photo courtesy of Elaine Fleury.
Watch this CFJC Today video on the Final Leg in Kamloops and preparation for the Provincial Games Opening Ceremony.
More fun to come with the LETR this fall including the Golden Torch Run! Check out the BC LETR events page for details on this and all upcoming events.
Big thanks to all the law enforcement members and agencies who do so much to support SOBC!
There was amazing enthusiasm during the New Westminster leg of the Lower Mainland Torch Run.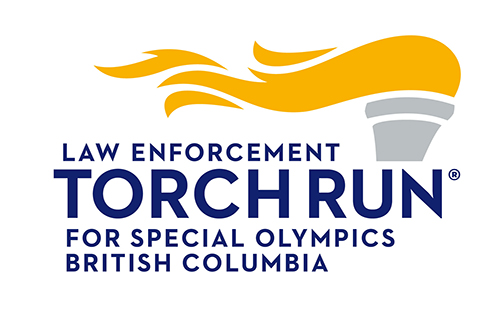 Contact
Charlotte Taylor
Manager, Fund Development & LETR Liaison
Special Olympics BC

Email: ctaylor@specialolympics.bc.ca
Phone: 604.737.3056

Stories
SOBC supporters make big waves at Polar Plunge events
Celebrating a spring and summer of successful fundraising with the BC LETR
World Games Final Leg a joyful, inclusive experience
Fearless Plungers get bold and cold for SOBC
Inspiring fall fundraising with the BC LETR
Law enforcement take to the trails for inspiring Island Torch Runs
Law Enforcement Torch Run sets the pace with SOBC athletes in Lower Mainland communities
First Polar Plunge for SOBC makes a big splash
2014 National Games LETR Final Leg
SOBC athlete Pat Johnson says the Torch Run "makes me happy"
BC LETR leaders recognized for long-term, exceptional service
VPD Sgt. Joanne Wild is hooked on the LETR and SOBC
The LETR is endorsed by