Law Enforcement Torch Run sets the pace with SOBC athletes in Lower Mainland communities
The Lower Mainland's law enforcement finest came together with Special Olympics BC athletes from May 31 to June 3 as the Law Enforcement Torch Run for SOBC swept through communities from Mission to the North Shore, raising vital funds and awareness.
Around 330 law enforcement members from a range of agencies and 45 Special Olympics athletes took part in the annual four-day run for SOBC.
The core Torch Run team joined local law enforcement members and SOBC athletes as they carried the Flame of Hope through Abbotsford, Chilliwack, Langley, Surrey, White Rock, Burnaby, Vancouver, North Vancouver, West Vancouver, Mission, Maple Ridge, Pitt Meadows, Port Moody, Coquitlam, New Westminster, Richmond, Delta, and Ladner.
"We had tremendous support in every community and a great turnout from law enforcement," said Vancouver Police Department Inspector Joanne Wild, a Torch Run organizer. "Special Olympics athletes from the local programs ran with us or cheered us on. It was an amazing experience for all of us! The BC LETR has established a great relationship with SOBC, and I am impressed with how it has grown over the 20 years I have been involved. By continuing to work together, we will increase the number of communities that have Special Olympics programs and the number of athletes."
Participating agencies included the Abbotsford, Delta, New Westminster, Port Moody, Vancouver, and West Vancouver police departments, RCMP detachments throughout the Lower Mainland, the RCMP's Pacific Region Training Centre, Canada Border Services Agency, the Justice Institute of British Columbia, and Metro Vancouver Transit Police.
Vancouver Canucks forward Chris Higgins and mascot FIN, dedicated friends of SOBC, were in fine form again this year as they joined the Vancouver leg for the section from City Hall to the VPD headquarters on Cambie St., to the delight of cheering fans.
Pictured at right: Special Olympics BC – Vancouver athlete Miranda Orth leads the Torch Run with Vancouver Canucks forward Chris Higgins and mascot FIN, and a Vancouver Police Department torchbearer.
SOBC – Coquitlam athlete Mandy Manzardo joined Torch Run team veterans SOBC – Burnaby athlete Pat Johnson and SOBC – Delta athlete Kim Davies for the full four days.
Manzardo is training for the 2017 Law Enforcement Torch Run Final Leg, where she and Constable Sheri Lucas of the Oak Bay Police Department will help carry the Flame of Hope through communities and into the Opening Ceremony of the Special Olympics World Winter Games in Austria.
It was an inspiring moment for the Lower Mainland Torch Run when Manzardo met SOBC – Ridge Meadows athlete Katherine St. Amand, who ran in the LETR Final Leg of the 2013 Special Olympics World Winter Games in Korea when she was a Special Olympics Alberta athlete.
St. Amand and her family moved to Maple Ridge just five days before the Lower Mainland Torch Run, and the new B.C. resident couldn't stop beaming as she led the run through her community.
Another highlight was the return of the White Rock leg after a three-year hiatus, with White Rock RCMP members setting the pace and an enthusiastic reception by Mayor Wayne Baldwin. Across the Lower Mainland, law enforcement and city representatives came out to welcome the runners in their communities. In New Westminster, runners got a heartwarming surprise when the City of New Westminster proclaimed June 3 Torch Run Day.
Pictured at left: The White Rock RCMP bring the Torch Run back to their community.
"The athletes we support are near and dear to our hearts," said Superintendent Murray Power, Officer in Charge of the Langley RCMP, who welcomed Torch Run participants at his detachment. "They bring their emotion, their effort, and they are inspirational not only to us but to all the citizens of Langley and around British Columbia. We want to continue to throw our support behind the Law Enforcement Torch Run and Special Olympics."
The Torch Run featured an alternate walking leg in several communities, with a fantastic turnout of around 35 RCMP members in Surrey.
Inspector Debra McLeod of the Delta Police Department joined the Torch Run 17 years ago and is part of the core team every year.
"I was hooked and then began getting more involved with the athletes," Inspector McLeod said.
She went on to support other LETR fundraisers, such as the Draft an Athlete program, and the annual Delta Police Department and Vancouver Giants fundraiser for SOBC, which she says is growing each year with the help of SOBC athletes.
Exciting Torch Runs are still to come with Greater Victoria law enforcement members and SOBC athletes taking to the Galloping Goose Trail on June 18, and Nanaimo RCMP members and local athletes teaming up for their run on June 25.
The LETR is a global movement that raises vital funds and awareness for Special Olympics. Since 1990, the BC LETR have been dedicated supporters of SOBC with LETR members around the province leading a variety of fundraising events throughout the year, raising more than $3 million to date.
Read about SOBC – Coquitlam athlete Mandy Manzardo and Oak Bay Police Department Constable Sheri Lucas joining the 2017 Law Enforcement Torch Run Final Leg Team
Special Olympics BC - Abbotsford athletes James Clifford and Paige Norton with LETR friends at the Torch Run.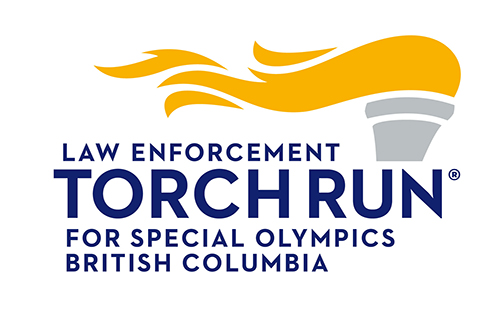 Contact
Charlotte Taylor
Manager, Fund Development & LETR Liaison
Special Olympics BC

Email: ctaylor@specialolympics.bc.ca
Phone: 604.737.3056

Stories
SOBC supporters make big waves at Polar Plunge events
Celebrating a spring and summer of successful fundraising with the BC LETR
World Games Final Leg a joyful, inclusive experience
Fearless Plungers get bold and cold for SOBC
Inspiring fall fundraising with the BC LETR
Law enforcement take to the trails for inspiring Island Torch Runs
Law Enforcement Torch Run sets the pace with SOBC athletes in Lower Mainland communities
First Polar Plunge for SOBC makes a big splash
2014 National Games LETR Final Leg
SOBC athlete Pat Johnson says the Torch Run "makes me happy"
BC LETR leaders recognized for long-term, exceptional service
VPD Sgt. Joanne Wild is hooked on the LETR and SOBC