'Heartwarming' Law Enforcement Torch Run spreads respect, awareness
After pounding the pavement with the inspirational Law Enforcement Torch Run in support of Special Olympics BC, Delta Police Department Cst. Lisa Coupar and Special Olympics BC – Abbotsford athlete Jeff James had very similar reactions.
"I will be back again next year!" Jeff said after running the Abbotsford leg that opened the four-day Lower Mainland Torch Run, taking part alongside dedicated Abbotsford Police Department members running their local leg as well as SOBC – Abbotsford athletes and the amazingly dedicated members of the Abbotsford, Delta, and Vancouver Police Departments who laced up for all four days of the Lower Mainland run.
Just before the final leg the Lower Mainland run, after running hundreds of kilometres, Cst. Coupar expressed the exact same sentiment as Jeff: "I'm doing it again," she said with certainty.
"I've absolutely loved every single minute of it. It's been heartwarming."
The Law Enforcement Torch Run inspires everyone who sees the respect, care, and admiration that law enforcement members show for the Special Olympics athletes they give their time and efforts to support. The example they set makes their communities better, stronger, and more respectful, and the annual Torch Run is an amazing opportunity for members to spread that spirit through their powerful demonstration of carrying the flame of hope through the streets alongside and in support of Special Olympics athletes.
In B.C., hundreds of law enforcement members hit the streets in nearly 30 communities around the province for the 2013 Torch Run in order to raise awareness and funds for Special Olympics BC, and show their respect for athletes.
The 2013 Torch Run included countless inspiring moments both in the Lower Mainland, with RCMP and municipal police members taking part in 17 communities, and in the strong events throughout the province.
The Nanaimo Torch Run nearly doubled in size from the previous year as the local RCMP turned their annual event into a North Island Torch Run. RCMP members from Nanaimo, Campbell River, Parksville, Port Alberni, and Powell River all took part, alongside military members who ran and walked in uniform, including backpacks, and many SOBC – Nanaimo athletes and volunteers laced up too. The run attracted more than 110 participants.
The Trail Torch Run had an amazing presence again this year, with more than 100 participants including RCMP members as well as Special Olympics BC athletes and members of the Canadian Forces and Canada Border Services Agency plus many community supporters.
In Greater Victoria, the Central Saanich, Saanich, and Victoria Police Departments staged a wonderful new Torch Run on the Galloping Goose Trail, attracting 50 runners including law enforcement members from the municipal departments, Island RCMP, and Canadian Forces, alongside SOBC – Victoria athletes and community participants such as Boys and Girls Club members. Vancouver Island RCMP Superintendent Jim Faulkner laced up to run alongside his brother John, an SOBC – Victoria athlete (both pictured at left).
Photo by Dave Ward courtesy of SOBC – Victoria
In Kamloops, the RCMP worked hard to introduce the Bridging the Gap run in support of Special Olympics, attracting 33 runners and starting off an exciting new event.
In the Lower Mainland Torch Run, Cst. Coupar said she delighted in connecting with the Special Olympics athletes and experiencing moments like Vancouver Canucks forward Chris Higgins, legend Stan Smyl, and mascot FIN joining the Torch Run for the second Granville Kilometre, showing their support for Special Olympics and the law enforcement runners in the heart of downtown Vancouver (pictured above). Also appreciated was the sight of many children from multiple schools along No. 5 Road in Richmond lining the street to enthusiastically cheer the runners and wave signs of support.
The Delta Police Department and community traditionally host the welcoming final leg of the four days of running for Special Olympics. This year included an extra-special celebration as the Delta Police Department marked their 125th anniversary with a stirring Flag Dedication Ceremony involving community members and dignitaries including honoured law enforcement leaders from the region.
The Law Enforcement Torch Run was featured as the runners carried the flame for Special Olympics into the conclusion of the ceremony. The Delta Police invited SOBC – Delta athlete Kim Davies to speak, and the Honourable Judith Guichon, Lieutenant Governor of British Columbia, made a point of staying and introducing herself to all of the Torch Run members and SOBC athletes.
SOBC – Delta athlete Stacey Kohler joined the Delta Police Department contingent running the whole Lower Mainland Torch Run, and Cst. Coupar admired Stacey's endurance and positive attitude throughout the run as well as her significant improvement over the four days. Cst. Coupar valued the experience of connecting with Special Olympics athletes participating in the run, like Stacey and Torch Run fixture Pat Johnson.
Cst. Coupar is a certified personal trainer, and her involvement with Special Olympics began when she was asked to help dedicated SOBC – Surrey athlete Sean Beddows train. The two have connected strongly, and Sean, a hardworking cross-country skier and swimmer, has shown remarkable progress.
"The improvements that I have seen in him have been unbelievable," Cst. Coupar said. "He started at 205 pounds and now weighs 183. He texts me every day and tells me his runs, and how much he has trained."
Now she also coaches with the SOBC – Delta Club Fit program, which is supported strongly by Delta Police members, and is hooked on taking part in the Torch Run.
We can't wait to see all the members in action next year, when the BC Law Enforcement Torch Run will build toward the 2014 Special Olympics Canada Summer Games in Vancouver – the first National Games to be held in B.C. in more than 20 years.
Event coverage
Abbotsford Police Department
Abbotsford Times (with video)
Chilliwack Times
Comox Valley
Langley Advance
Maple Ridge News
Maple Ridge Times
Surrey RCMP
Vancouver Sun (article)
Vancouver Sun (video)
Saanich News
Coquitlam RCMP Cst. Michelle Luca and SOBC athlete Mandy Manzardo happy to lace up for the Law Enforcement Torch Run.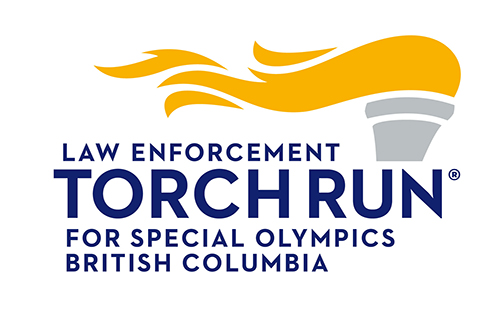 Contact
Charlotte Taylor
Manager, Fund Development & LETR Liaison
Special Olympics BC

Email: ctaylor@specialolympics.bc.ca
Phone: 604.737.3056

Stories
SOBC supporters make big waves at Polar Plunge events
Celebrating a spring and summer of successful fundraising with the BC LETR
World Games Final Leg a joyful, inclusive experience
Fearless Plungers get bold and cold for SOBC
Inspiring fall fundraising with the BC LETR
Law enforcement take to the trails for inspiring Island Torch Runs
Law Enforcement Torch Run sets the pace with SOBC athletes in Lower Mainland communities
First Polar Plunge for SOBC makes a big splash
2014 National Games LETR Final Leg
SOBC athlete Pat Johnson says the Torch Run "makes me happy"
BC LETR leaders recognized for long-term, exceptional service
VPD Sgt. Joanne Wild is hooked on the LETR and SOBC