Hooked on the Law Enforcement Torch Run
For the past 15 years, Sgt. Joanne Wild of the Vancouver Police Department has been a dedicated supporter of athletes with intellectual disabilities through her involvement with the BC Law Enforcement Torch Run and Special Olympics BC. She has helped the movement through her involvement in a wide variety of roles, from presenting medals and ribbons for Special Olympics track and field competitions to being a leading organizer in the Torch Run, one who has logged hundreds of kilometres running across the Lower Mainland. Joanne has also helped bear the flame into Opening Ceremonies for Special Olympics Canada and Special Olympics BC Games.
Over her many years of involvement, she has helped to raise thousands of dollars for Special Olympics through various fundraisers, and worked to develop a program where Vancouver Police Department members donate overtime hours that are turned into donations to help SOBC athletes experience the joy of competing in National and Provincial Games.
"I first became involved in 1997 when I was asked to participate by a now retired member. I think he asked me because he knew I liked to run," Joanne says. "I was instantly hooked not only on the BC Law Enforcement Torch Run but on the Special Olympics movement."
In 2011, Joanne received special recognition for her long-standing efforts when she was awarded the Robert Plunkett Memorial Award. The national award is made available by Special Olympics Canada for presentation to a Law Enforcement Torch Run representative who best exemplifies the spirit, philosophy, dedication and goals of the Law Enforcement Torch Run and the Special Olympics movement in Canada.
While she was very honoured to win the award, Joanne said that for her, that was the icing on the cake. "To be considered, never mind chosen, for this award was unbelievable," she says. "The sole reason I became involved with the Torch Run and Special Olympics BC is the passion I have for the athletes and providing them with the athletic opportunities they so love."
In speaking with Joanne, it becomes clear that this passion comes in large part from seeing athletes gain confidence and excel through competition.
"I know some athletes who prior to becoming involved with Special Olympics struggled with daily life. After joining Special Olympics they have become healthier, met individuals like them, made lots of friends and became more confident. The excitement and joy they show whenever they are around their teammates or at competitions is amazing. I've attended events where the athletes' cheers have drowned out anything else going on and it is an extraordinary thing to be a part of."
To support Joanne and her colleagues in the 2012 BC Law Enforcement Torch Run, come out and cheer at your local torch run, help to spread the word or make a donation. The run, which takes place on and around June 8, is just around the corner. This year, nearly 30 communities will host Torch Run events.
Run details and registration forms | Support a runner
Torch Run fans in Vancouver: run alongside the law enforcement personnel in the inaugural Granville Kilometre!
Details | Registration form
Vancouver PD Sgt. Joanne Wild (right) with VPD Superintendent Dean Robinson and SOBC athlete Pat Johnson.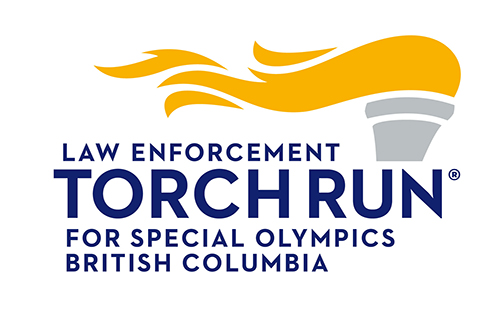 Contact
Charlotte Taylor
Manager, Fund Development & LETR Liaison
Special Olympics BC

Email: ctaylor@specialolympics.bc.ca
Phone: 604.737.3056

Stories
SOBC supporters make big waves at Polar Plunge events
Celebrating a spring and summer of successful fundraising with the BC LETR
World Games Final Leg a joyful, inclusive experience
Fearless Plungers get bold and cold for SOBC
Inspiring fall fundraising with the BC LETR
Law enforcement take to the trails for inspiring Island Torch Runs
Law Enforcement Torch Run sets the pace with SOBC athletes in Lower Mainland communities
First Polar Plunge for SOBC makes a big splash
2014 National Games LETR Final Leg
SOBC athlete Pat Johnson says the Torch Run "makes me happy"
BC LETR leaders recognized for long-term, exceptional service
VPD Sgt. Joanne Wild is hooked on the LETR and SOBC